To NASeA Community and beyond;
NASeA's Public Relation Committee is proud to announce its second Monthly talk program. This month we have a distinguished guest from Nepal, Ms. Sunita Danuwar, A proud winner of "TRAFFICKING IN PERSON HERO AWARD-2018" awarded by US Department of State. let us welcome her to share her experience and life story in her own words.
Date and Time: 08/29/2018 8:00PM EST
venue: via conference call, Please Dial:(712)451-0952
Access code: 124401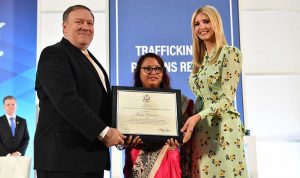 Ms. Sunita Danuwar
Founder & Executive Director of Shakti Samuha
Member of National Committee to Cobat Human Trafficking (NCCHT)Central Board Member, Non-Government Federation
Winner of 'Asia Democracy and Human Rights Award-2015', 'World Women Leadership Award 2015' & 'C-10 Award 2014'
Honored by "Trafficking In Person (TIP) Hero
2018 Award" by The US Government on
June 28, 2018 at USA.
Auto-Biography: "Ashuko Shakti" based on real life story of Sunita Danuwar launched in 2016.