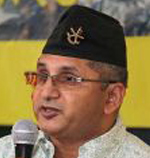 Respected Community Members,
Greetings!
On Sunday September 6, 2015 the voters entrusted me to lead Nepalese Association in Southeast America (NASeA) for 2015-2017 term. While I am honored to be the leader, I have no illusions about the daunting tasks that lie ahead for our organization. I would also like to extend my congratulations to other elected officers and executive members.
My sincere thanks to everyone who contested and truly followed the democratic process to honor the election result. Please note that during this election there were no losers. Everyone who stood up had a clear vision and a purpose of how they wanted to take this organization forward. While our methods to reach the goal might be different, there never was a dispute on the ultimate goal.
We all wanted an organization that follows its by-laws and mission, is inclusive, and serves its members to its fullest, and willing to make necessary course correction when needed. I would also want to thank each voter who participated regardless of whom you voted because that is one of the civic duties you all fulfilled to keep the flame of democracy alive when it has been so elusive in many other organizations here in USA as well as in Nepal. So big thanks to all the candidates, voters as well as volunteers of independent election commission led by Dr. Prahlad Pant, Dr. Narayan Rajbhandari and Dr. Khusi Ram Tiwari together with the Membership Verification Committee led by Dr. Prakash Malla, Mr. Ajaya Satyal and Mr. Lekh Nath Ghimire.
There will be no place for divisive politics in NASeA, the kind that has been displayed in many other organizations. In fact, the very divisiveness has led to the demise of some of these organizations. Instead, we will focus on understanding and fulfilling the needs of our community. Together we will work hard to bring about new programs and positive changes.
My team will seek out new talents in Nepali community to form advisory board. People with perspectives will bring newer visions. Proven Nepali professionals are our assets and we must seek their support and views. I have formally invited Mr. Madhav Dhakal, who did an excellent job of hosting and chairing the 11th Convention as one of my 1st proposed advisor. Our collective role should be to promote leaders like him so that not only our organizations benefits but that he can continue to evolve through newer experiences and grow into something that entire State of North Carolina, Nepal and US can benefit and be proud of. Anyone who shows such talent, our collective role should be to promote one of our own, including the Honorable Vice Mayor of Indian Head Mr. Kiran (Ron) Sitoula, who continues to set examples to the Nepali youth in America.
During my tenure, I will leave no stone unturned, be transparent, credible and honest to the NASeA community. I will also be open to ideas and suggestions that benefit our beloved organizations. All of the meeting minutes will be properly documented and posted online, financial matters will be posted online, annual and monthly activities of calendar will be well planned, coordinated and published so that we can lead our organization as professionally as we can.
<