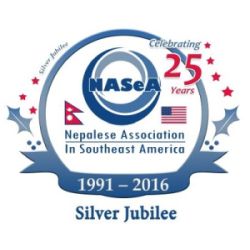 Press Release:
NASeA Silver Jubilee Day 2016 Concludes Successfully
Happy Dashain – Tihar 2016 Greetings from NASeA!
On the occasion of Nepali Dashain-Tihar B.S. 2073,  Nepalese Association in Southeast America (NASeA) successfully held her Silver Jubilee 2016(नासा रजत महोत्सव वर्ष २०१ ६) celebration; wrapping up the day with celebratory Cultural/Concert in the magnificent city of NASeA's regional capital Atlanta, Georgia on Saturday, October 8, 2016.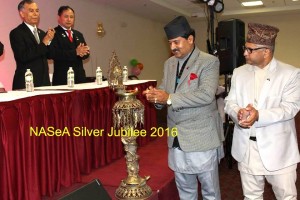 NASeA was established on the auspicious occasion of Happy Bijaya Dashami 1991 in Atlanta, Georgia. She proudly completes her twenty five years of journey with a lot of accomplishments and has a glorious history. NASeA Silver Jubilee 2016 official ceremony was chaired by President Bimal Nepal. The opening ceremony commenced with the lighting up of DIYO in Panas by the
chief guest Excellency Honorary Consulate General Prem Raja Mahat. Both American and Nepali national anthems were played during th