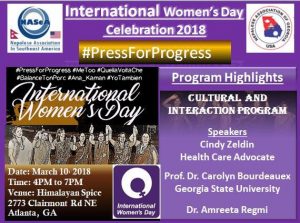 Respected Nepali Community, community leaders in NASeA region and beyond,
Nepalese Association in Southeast America (NASeA) together with Nepalese Association of Georgia (NAG) cordially invite all Nepali community to participate in the special event organized to celebrate International Women's Day 2018
International Women's Day is celebrated every year on March 8th. This year, International Women's Day comes with a #PressForProgess with hyped movements like #MeToo,#Timesup, which have inspired different movements in other countries such as #Ana_Kaman,#YoTambien. On this special day, we would like to celebrate social, economic, cultural and political achievements and focus on the obstacle and challenges that is faced around women's right, equality, and sexual misconduct.
Along with that, NASeA leaders and members, who are unable to make it in Atlanta, please plan the separate event to your reach in collaboration with the national, state and local level organization to take some time to celebrate the achievements and to ponder on the challenges and obstacles.
Please join us in Atlanta on March 10th from 4 PM to 7 PM at Himalayan Spice for the celebration. Let's all make this special day a grand success and take some time to think about our contribution to the community and ourselves. This is the time to celebrate our achievements and pave the future roadmap.
Thank you and I hope to see you all in following date and time:
        Date: Saturday, March 10, 2018
       Time: 4 PM to 7 PM
       Venue: Himalayan Spice Restaurant 
              2773 Clairmont Rd NE, Atlanta, GA
Sincerely,
Rama Ghimire
Chair, Women and Children Committee
Nepalese Association in Southeast America